Property OVERVIEW
Valleybrook Guest House
Mid-Century Modern Guest House Retreat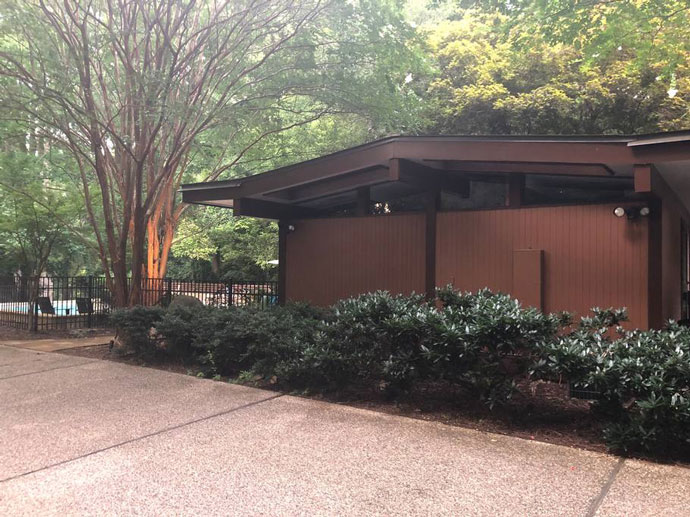 1 Bed;  1 Full Bath
Size: 500 sq ft
Description
Excellent one-room domicile for solitary reflection time in a very unique and beautiful landscape. Windows line the walls of this exquisite guest house, with views toward a private pool and hot tub, an ancient Chinese maple garden, and a koi pond with fountain. The guest house is adjacent to a beautiful Frank Lloyd Wright-inspired home occupied by the owners. 
Guests have access to 15 acres of wooded property with old growth trees, plenty of space to walk and ride bikes, and a beautiful creek that runs from the house to the gazebo at the bottom of the property.
CONTACT US FOR AVAILABILITY & PRICING
This property is very close to South Park businesses and near Charlotte's finest shopping at the upscale South Park Mall, Phillip's Place and Morrocroft Village. South Park is also home to a variety of casual and fine dining choices . 
"Spotless and comfortable, this home is a walker's dream. Park your car and walk to everything you need, from groceries, fine and casual dining, beautiful neighborhood parks, brew pubs, and Uptown nightlife via light rail. The well-equipped kitchen is ready to cook a Thanksgiving dinner, and you'll have family-bonding moments hand-washing the dishes after the feast is finished. The owners are super-professional and great to work with. We'll stay here again, for sure!"
Lyn Douglas, Yorktown, VA
"I almost don't want to share how awesome this house is because I want my friends and I to have access to it whenever we want…but instead, I will not be selfish 😉 First of all, the house is absolutely adorable. So nicely decorated- very cool updated bungalow. The beds are incredible- you will literally not want to go back and sleep in your own bed. Promise. Secondly, the location is perfect. Walking distance to Starbucks, Harris Teeter, Duck Donuts (a must try) as well as lots of shops, awesome bars and restaurants. Very safe neighborhood with lots of people walking their dogs and being jealous of you hanging out on the porch of this awesome crib. And last, but definitely not least, Mike and Beth are so great! Super friendly and helpful. They provided all the information we needed and more to make our stay special. They also brought over dish detergent in the blink of an eye when our house was out. Customer service at its best! If you choose this house, your friends/family will thank you a thousand times over! And if you don't, well that just means it will more likely be available when I want to rent it :)"
LeAnne, Raleigh, North Carolina